Villa Pojana
in Pojana Maggiore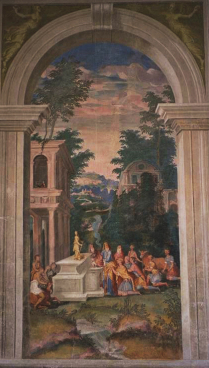 Another example of architecture shaped on the personality of its owner is offered by the villa that Andrea Palladio designed for the Pojana family, an ancient and noble family (see the plan and elevation of the villa from "The Four Books of Architecture").
This villa was built around 1550 (frescoes in 1563) and it reflects the military origin of its owner, committed to the art of war but also involved in agricultural business. The Pojana family had ruled that place since the Middle Ages; the same territory was later offered to them as a feud by the Serenissima , "cum omnibus juribus et juridictionibus to castellarium spectantibus".
Therefore, it is likely that "cavalier" Bonifacio Pojana entrusted Palladio with the task of building a villa that, through its composed elegance, reminded the frugality and the austerity of military life. Bonifacio himself belonged to the world of those aristocrats who were devoted to the cult of letters and at the same time exercised the military art. His relationship with the "peditum" captain Paolo Naldo is also certified, and two of his ancestors, Bonifacio and Giacomo ("peritissimi ne' fatti della guerra" as Giacomo Marzari wrote in 1604) fought for the Serenissima.
Andrea Palladio gives up decorative details almost totally in this villa; he closes the façade instead of articulating it in an open gallery or in a pronaos; he creates a simple, measured and harmonious architecture. The focal point of the façade is the original serliana with five oculi – derived from Roman models through the mediation of Bramante.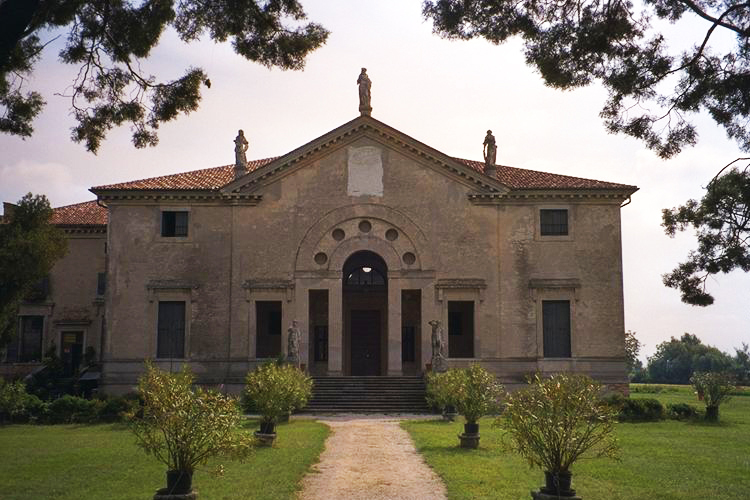 Even the decoration of the rooms recalls themes tied to the art of war: the bust of Bonifacio Pojana (maybe by Bartolomeo Ridolfi, author of the stuccos), dominated by his coat of arms, is surrounded by frescoes representing military triumphs, while the allegory of Fortune on the ceiling of the atrium, by Giambattista Zelotti, reminds that she is the key ally for warriors.
The frescoes in the internal rooms – by Bernardino India and Anselmo Canera – represent scenes of battle, emperors and triumphs that recall the military power of Rome, celebrating – as Lionello Puppi wrote – "the mythological universe of Olympus and the heroic universe of emperors".