Villa Saraceno
in Finale di Agugliaro
Recently restored to its original beauty, Villa Saraceno in Finale di Agugliaro is a classic example of a farm-house, conceived like the hub of agricultural activity. In the fifteenth century, in fact, the ancient Roman family Saraceno took possession of the countryside of Finale, south of Agugliaro, a territory that in the seventeenth century was able to benefit from the reclamations done by the "Magistratura dei beni inculti" which multiplied its productive output.
Villa Saraceno, an early work of Andrea Palladio dating back to 1545, strikes for the absolute purity of its forms and for the clear volumetric design.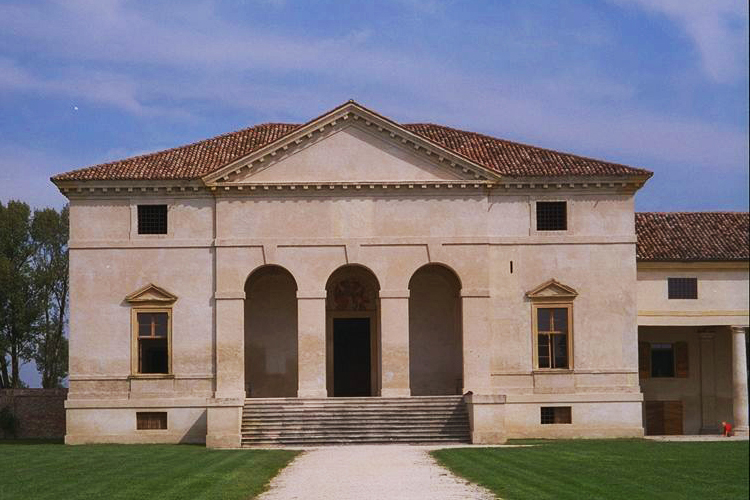 The façade shows three fling arcs, with simple decorations such as the frames of its windows and its timpano. This almost bare frugality, even if pure and elegant, probably mirrors the concrete spirit and the pragmatism of the Saraceno family. This family settled in Agugliaro a century in advance compared to the conspicuous flow of nobles towards the country of the sixteenth century and invested significant amounts of money in the acquisition of estates.
Palladio himself underlines the functional character of Villa Saraceno in his "Four Books of Architecture", focusing on the barn that occupies the whole body of the villa ( "Granaro il quale occupa tutto il corpo della casa") and on the other buildings needed for agriculture ("luoghi all'uso di Villa necessarii", which, however, were not completed). The Allegory of Wealth emerges among the few frescoes inside – it could be a propitiatory image, explicit reference to the confidence that nobles placed in the investments in land.
Following the criteria of usefulness and functionality, Palladio made one of his most limpid and pregnant creations, thus demonstrating that real poetry doesn't originate from rich decorations but from the extreme simplicity of the language, from the harmony that links an architecture to its surrounding landscape.